WIP Home Page

New Jersey School Climate Improvement (NJ SCI) Survey
The New Jersey School Climate Improvement (NJ SCI) Survey was developed by the School Climate Transformation Project (SCTP) at Rutgers University in collaboration with the New Jersey Department of Education (NJDOE). The NJ SCI Survey is designed to help schools identify school climate strengths and needs and use data to create strategic plans to improve conditions for teaching and learning.  Click the button below for a list of domains, or major topic areas, covered on the NJ SCI Survey for students, staff, and parents and caregivers.  The NJ SCI Survey is administered through the NJ SCI Platform, a web-based application designed to support district- and school-level school climate improvement efforts.  The survey and associated communication resources are translated in the following languages for students and parents and caregivers: Spanish, Portuguese, Haitian Creole, Arabic, Afrikaans, Albanian, Amharic Armenian, Bengali, Dari, Estonian, Georgian, German, Greek, Gujarati, Hebrew, Hindi, Japanese, K'iche, Korean, Malayalam, Polish, Russian, Simplified Chinese, Tagalog, Tamil, Telugu, Traditional Chinese, Turkish, Ukrainian, Urdu, Vietnamese 
The NJ SCI Survey replaced the New Jersey School Climate Survey (NJSCS) following a validation study in 2022-2023 (view technical report). Revisions to the survey were guided by a rigorous review of current research literature and analyses of previously collected NJSCS data from schools across New Jersey as well as an expansive input process involving representatives from educational organizations to ensure the survey meets the current and emerging needs of K-12 schools in the state.
New Jersey School Climate Improvement (NJ SCI) Platform
The  New Jersey School Climate Improvement (NJ SCI) Platform is a free, web-based application designed to increase  district and school access to tools and resources for data-driven school climate improvement planning and implementation.  NJ SCI reporting features allow users to disaggregate data by various groups (i.e., grade, gender, race/ethnicity), easily compare similar domains and items across respondent groups, view automated insights and recommendations about the data, and bookmark indicators for discussion and intervention.  
Additional features to support strategic planning and implementation efforts, including goal development, school climate strategy selection, and progress monitoring, will be launched as they become available.  The platform will be able to generate automated graphs to help schools track progress toward school climate goals, and provide tools for staying on track throughout the change process. 
The NJ SCI Survey and Platform enable districts and schools to take a "blue sky" approach to imagining the possibilities for improving their cultures and climates for all school community members. See images below for a preview of the NJ SCI Platform interface.
Download and share the
NJ SCI Platform and Survey Information Flier
 with members of your school community to inform them of this opportunity. Submit an interest form at the bottom of this page on behalf of your district.
School climate encompasses the dynamic and diverse feelings, perceptions, and impressions of school community members – in other words, the quality or experience of how it feels to be a part of the school community from one's unique identity and perspective, as well as in interaction with other members of the community.  Perceptions of school climate can change over time and are shaped by factors at various levels. At the broadest level, national and societal events and conditions can influence policies and procedures at the state and local levels, which can shape teaching and learning conditions in schools. Smaller group contexts within schools, like classrooms, can also have their own climates (referred to as "microclimates") and norms of behavior in response to various environmental influences.  
Approaching school climate within this framework attends to the ways race, ethnicity, socioeconomic status (i.e., class), gender, sexuality and other social factors operate within and across contexts to shape school environments and individuals' experiences. This lens best positions schools and districts to understand diversity, equity, and inclusion as core characteristics of school climate and culture, which are central to the design and delivery of effective efforts to address school needs.   
Research consistently shows the importance of promoting a positive school climate for all students, staff, and parents/caregivers*.  Positive school climates promote higher levels of student academic achievement and foster the physical, psychological, and social and emotional well-being of both students and staff. Promoting the overall well-being of all staff and students creates conditions for effective teaching and learning that lead to more positive student academic and developmental outcomes. 
*Bohanon, Flannery, Malloy & Fenning, 2009; Brand, Felner, Seitsinger, Burns & Bolton, 2007; Cohen, McCabe, Michelli & Pickeral, 2009; Hosford & O'Sullivan, 2016;  Kutsyuruba, Klinger, & Hussain, 2015; Thapa, Cohen, Guffy, & Higgins-D'Alessandro, 2013; Wang & Degol, 2015. 
The School Climate Change Process (SCCP) developed by the School Climate Transformation Project (SCTP) at Rutgers University, is based on a behavioral consultation model designed to promote changes in systems and behaviors. The SCCP is part of a theory of change that involves a range of critical steps for success and conditions that support the development and implementation of a comprehensive school climate improvement plan.   
Schools begin the SCCP by forming a high-functioning school climate leadership team (SCLT) comprised of diverse school community members that drives and monitors improvement efforts. Teams collaborate to collect and analyze school climate data from students (grades 3-12), staff, and parents/caregivers and use these and other data to drive goal development and alignment of strategies to goals to build a comprehensive and coordinated strategic plan. Development of this comprehensive strategic plan requires ongoing communication and collaboration with school community members. This helps to ensure equitable access to data and feedback throughout the change process and is essential for achieving goals.   
Once schools begin to implement their plans, they evaluate progress and make necessary modifications based on new data and information collected. Schools continuously cycle through this process, collecting data and evaluating progress over the course of several years. Research suggests systemic, positive changes related to school climate improvement typically take three to five years*.  
Leadership support and coordination at the district level is vital to starting and sustaining the SCCP. District leaders champion the importance of this work in the community and enact leadership skills and competencies to drive the SCCP, including: aligning a district's vision and values to school climate goals and priorities, engaging various key community members, and providing structures and supports to enable individuals and teams to effectively and efficiently facilitate school climate improvement activities. Equity, particularly as it relates to communicating and engaging with school community members, is prioritized throughout each element of the SCCP and is attended to by both district – and school-level leaders. 
*Cawelti, 1999; Protheroe, 2011.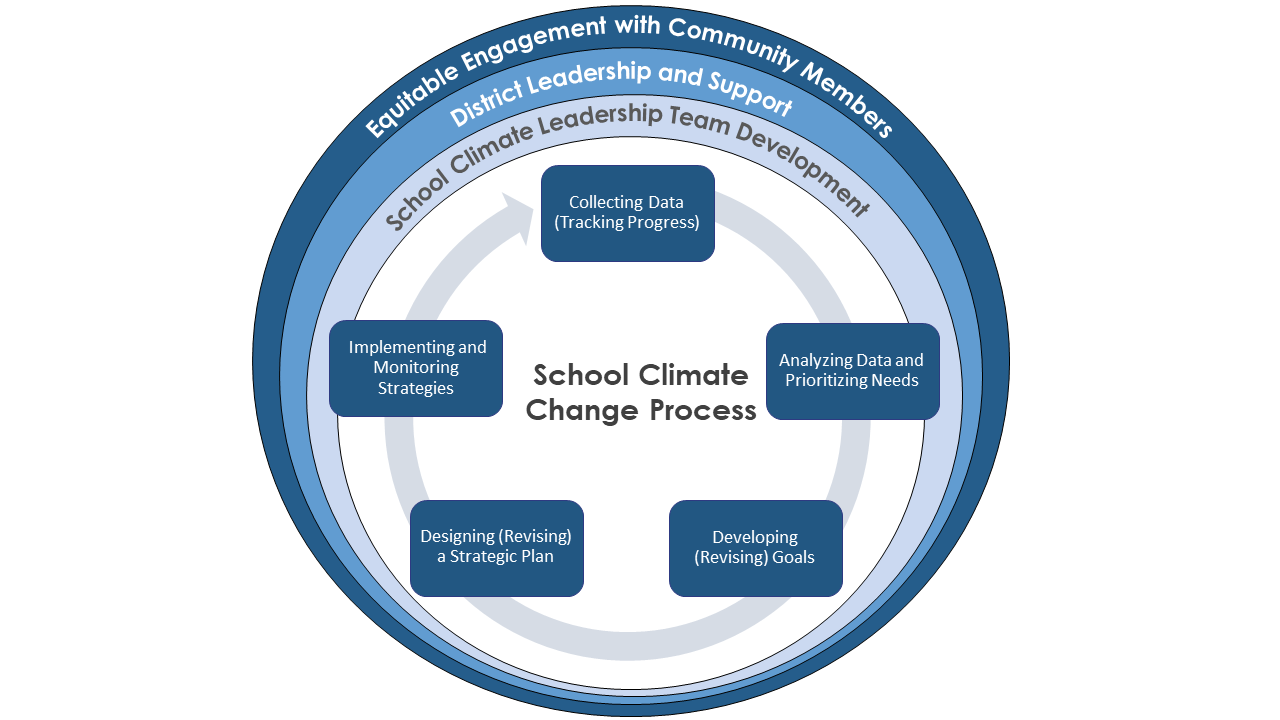 NJ SCI Platform Testimonials
I find this platform easy to navigate and extremely comprehensive, organized, and useful.
NJ SCI is a helpful tool in gathering school level and district level data to inform programming.
So far, the platform has been very user-friendly.  I love videos and 'how to' resources.
Just follow the blueprint. The instructions are all there for you. It relieves all the stress you don't have to recreate the wheel here.
I don't know how I would do this without the tools on the platform itself.
We are looking to develop a collaborative and supportive community with genuine and healthy relationships where students, staff and families feel valued and look forward to being a part [of our] District. That's where we came together and decided what would be our vision as our district leadership team.
[The Rutgers team] has always given us the tools and the direction that we have needed to work through improving the climate throughout our district.
View responses to our Frequently Asked Questions to learn more about the NJ SCI Platform, or use the form below to contact NJ SCI Support staff.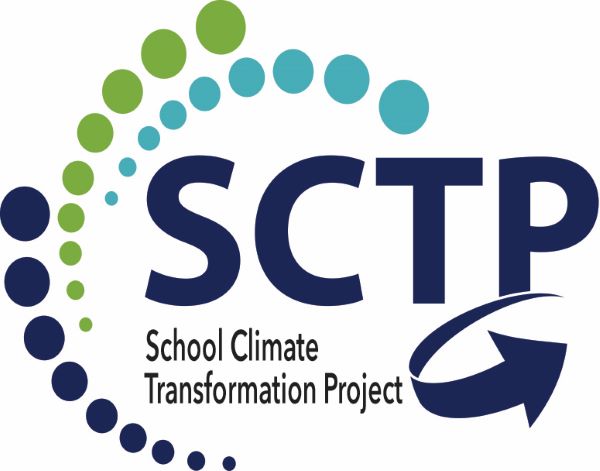 The School Climate Transformation Project is a partnership between the New Jersey Department of Education  and the Rutgers Graduate School of Applied and Professional Psychology.  SCTP staff support K-12 districts and schools in using a multi-year, data-driven school climate change process for developing inclusive and positive school climates.  In addition to online modules and resources available on the New Jersey School Climate Improvement (NJ SCI) Platform, the SCTP provides network-wide events and consultation to support school leadership teams in using the NJ SCI Survey to develop a comprehensive plan for improving school climate.
Sponsored by the New Jersey Department of Education, Division of Educational Services, in collaboration with the
Graduate School of Applied and Professional Psychology at Rutgers, The State University of New Jersey; funded 94% by IDEA, Part B and 6% by Title IV, Part A.